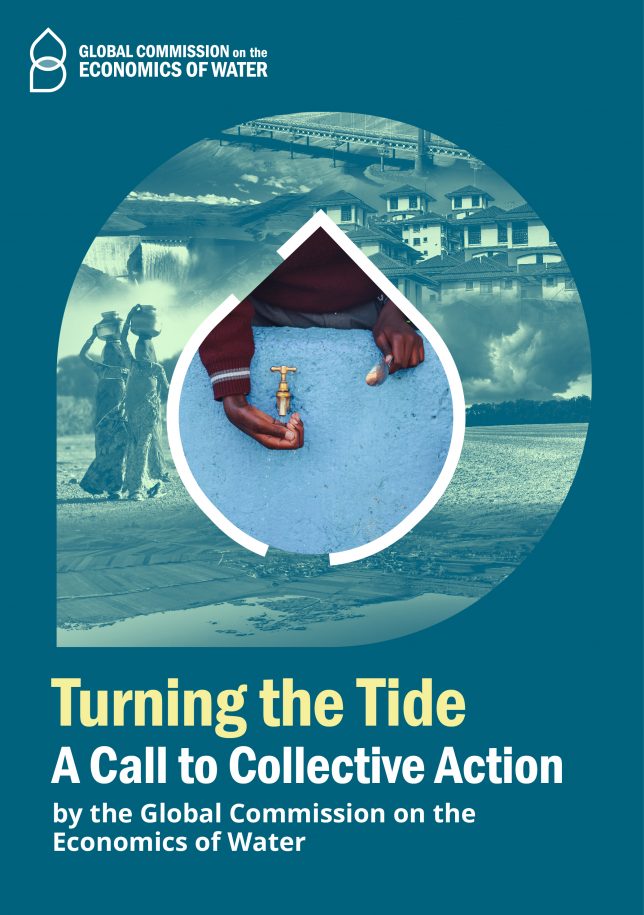 A sustainable and just water future can be achieved; however, it requires a significant change in how we value, manage, and use water.
We read Turning the Tide: A Call to Collective Action, by the Global Commission on the Economics of Water, which was published this month, and share the following synopsis.
A systemic water crisis headed for massive collective failure
Our current systemic water crisis is growing into a global tragedy on local and global levels. Nations and regions are connected through the water cycle in profound ways. More than two billion people still lack access to safe water. The report points out that one child under five dies every 80 seconds from diseases caused by polluted water.
This water crisis is also linked to climate change and the loss of biodiversity. The global energy imbalance intensifies the water cycle, "adding about 7% of moisture for each 1°C of global mean temperature rise." Deforestation and depletion of wetlands and land degradation impact precipitation patterns, soil moisture and vapor (green water), and runoff and liquid flows (blue water). Extreme events in the forms of unprecedented floods and droughts, cyclonic storms, and heat waves have caused a devastating toll on human suffering, and in some cases, wiped out decades of human development in weeks.
The report points out that the water crisis imperils all the Sustainable Development Goals (SDGs):
…from SDG 6, ensuring universal access to safe water and sanitation; to food security and health; to ending poverty and inequalities; to enabling trade for sustainable growth; to our chances of delivering the Paris Climate Agreement, and avoiding conflict within and across borders.
Another contributor to the water crisis is water mismanagement. We have failed to preserve freshwater ecosystems, manage overuse, prevent contamination, and develop and share water-saving technologies. The report notes that we face the prospect of a "40% shortfall in freshwater supply by 2030, with severe shortages in water-constrained regions."
Water also plays a role in climate mitigation and adaptation strategies, including the protection wetlands provide against floods and droughts.
Hope through collective solutions
The report points out that a sustainable and just water future can be achieved; however, it requires a significant change in how we value, manage and use water. This collective action begins with treating water as our most "precious global collective good, essential to protecting all ecosystems and all life."
Collective solutions enable us to reinvigorate our economies, benefit people globally, and unlock progress on the SDGs. However, we must act urgently with a collective resolution.
Seven-point call to collective action
The report sets out a seven-point Call to Collective Action which provides a path for immediate implementation. The Call to Collective Action includes the following requirements:
Manage the global water cycle as a global common good, to be protected collectively and in the interests of all. It requires the recognition that communities and nations are connected regionally and globally and that water is critical to food security as well as all the SDGs. In addition, water justice and equity are required to put water on a sustainable trajectory.


Adopt an outcomes-focused, mission-driven approach to water encompassing all the key roles it plays in human well-being. We must deliver on the human right to safe water and act collectively to stabilize the global water cycle. We can act collectively by mobilizing multiple stakeholders, public, private, and civil society as well as local communities.


Cease underpricing water. We need to properly price water and provide targeted support for the poor. We need to also account for water's non-economic value in decision-making to ensure we protect nature and our biodiversity.


Phase out some $700 billion of subsidies in agriculture and water yearly, which tend to generate excessive water consumption and other environmentally damaging practices. We also need to reduce leakages in water systems ("non-revenue water") that cost billions annually and prioritize sustained maintenance efforts. The report also calls for the acceleration of water footprint disclosures.


Establish Just Water Partnerships (JWPs) to enable investments in water access, resilience and sustainability in low- and middle-income countries, using approaches that contribute to both national development goals and the global common.


Move forward at scale on opportunities that can move the needle significantly in the current decade such as fortifying freshwater storage systems, developing the urban circular water economy, reducing water footprints in manufacturing, and shifting agriculture to precision irrigation and less water-intensive crops.


Reshape multilateral governance of water, which is currently fragmented and not fit for purpose. Trade policy must be used as a tool for more sustainable use of water, by incorporating water conservation standards, highlighting wasteful water subsidies, and ensuring that trade policies do not exacerbate water scarcity in water-stressed regions.

The report describes the need to learn from past failures. Our past approaches have been too narrow, too local, too short-sighted, too divided, and too incremental. We can correct these failings with more systems thinking and bolder collective actions at local to global levels to manage water in a more integrated, inclusive, and effective way.
A new framework for the economics of water calls for managing the global water cycle and regarding water as a global common good to be protected collectively and in the interests of all.
The report cries out for a new social contract with an integrated, holistic approach that places justice and equity at the center of our actions. It ends with a reference to learning from the wisdom of Indigenous Peoples and traditional communities who understand and treasure water as a shared resource, across generations.